This is what the tarot said in response to my question as to what to focus on to help me with my studies.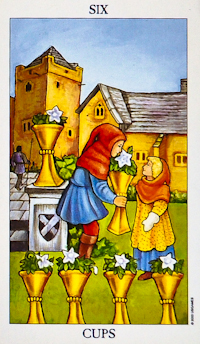 It's a message to focus on the good things and to turn away from the problems of the world. This is good advice for me as I've always felt that I have a responsibility to bring information to people to plant seeds and play my part in the global awakening of consciousness. I have felt a gradual release of my attachment to that belief and a feeling of excitement and strong determination to pursue something of value for myself that will serve me on an intellectual as well as a practical level.
Today on 11:11:11 it is the time for forgiveness and letting go of the past to begin a new phase. I have done a meditation of forgiveness to release feelings of anger and blame I realised I still held towards my ex boyfriend who was jealous and hindered me when I was studying years ago. I finally realised that it was not all my fault that I failed to complete my studies but that he played a large part in it. Of course, it does not matter now who was to blame because what is done is done. But the reason I was unable to move past this period of my life is that a part of me needed to be heard. I needed to recognise that I was not entirely responsible and now that I have acknowledged that fact I feel much more at peace with what happened and I can let go of the negative emotion and move ahead with a clean slate. It feels as though there is balance now. As the six of cups is telling me, it is time to return to a state of innocence and once again feel the excitement and passion for life and learning that I had as a child.